Why not try an easy quiche recipe using one our delicious pasta blends?
You will need: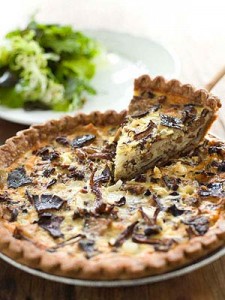 1 packet Taste of Italy – we recommend the "Funghi" or "Mediterraneo" mix.
1 packet puff pastry
4 eggs
1 cup milk
1 cup cheddar cheese
Salt & Pepper to taste.
Cooking Instructions:
1) Pre-heat oven to 180 degree's
2) add you pasta blend to a pot with 250ml boiling water. Let stand for 5 min and then bring to boil until all the water has cooked off.
3) Sprinkle flour on a flat surface and roll out the puff pastry till about 3mm. Place in a round shallow dish pressing the pastry into the corners and cut off excess pastry.
4) Blind bake the pastry shell until almost firm (you can line the shell with wax paper, and then add rice or dried beans to help the pastry shell maintain its shape).
4) add the rehydrated pasta blend to the pastry shell and spread evenly.
5) In a separate bowl mix eggs, milk and cheese. Add salt and pepper to taste.
6) Pour over the pasta mix and bake for 35 min.
Bon Appetito!